Planar 8
The Planar 8 was inspired by the ultimate Rega turntable, the 'Naiad'. We decided early on that instead of an evolution of the previous RP8, the new Planar 8 was to be developed and engineered to encapsulate the essence of 'Naiad' at an affordable price. Our aim was to deliver a level of performance far beyond what has been achieved at this price point before.
Please note: The Planar 8 will now ship with new look NEO MK2 power supply as standard.
*New matt white finish available from April 2023 - The white Planar 8 is supplied with a clear dustcover and clear triple layer float glass platter.
Engineering masterclass
Every aspect of the Planar 8 is engineered to extract as much detail from the vinyl surface as possible. We have used the most advanced materials and engineering solutions built around a supremely lightweight plinth to ensure the greatest level of performance. The Planar 8 is supplied with the new RB880 tonearm and Neo PSU as standard which offers electronic speed change, advanced anti-vibration control and user adjustable electronic fine speed adjustment to ensure total accuracy and control over the motor. The outer frame of the previous model has now been removed and a new stylish, removable, single piece dustcover has been introduced further reducing the overall mass of the turntable.
Key Features
RB880 precision tonearm
Ania, Ania Pro, Apheta 3 factory fitted (optional)
Super flywheel effect triple layer glass platter
Double brace technology
Tancast 8 foam core plinth
Custom matched Neo psu
Reference EBLT drive belt fitted as standard
Available in two matt finishes, Polaris grey and white (new for 2023)
Lifetime warranty against manufacture defects
Matt White
Matt Polaris Grey
Matt white and Matt Polaris Grey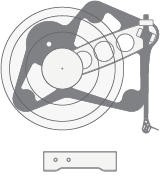 Technical Specifications
Selectable Speed

33 1/3 rpm, 45 rpm

Planar 8 Turntable Dimensions (with dustcover fitted) (W x H x D)

420 x 125 x 315 mm

Neo PSU Dimensions (W x H x D)

180 x 50 x 155 mm

Turntable Weight

​4.2 kg

Neo PSU Weight

0.6 kg
For full technical specifications, download Planar 8 User Manual (multi-lingual) below.
Downloads
Environmental Labelling of Packaging
Rega's Planar 8 really advances the idea of what constitutes state-of-the art vinyl playback at this price. It has the remarkable ability to thrill and entertain and is an exceptionally well thought-out design that really delivers.
---
Experience Rega
Contact your nearest Rega dealer or global distributor
Lifetime Limited Warranty
All Rega products carry a Lifetime Limited Warranty.
Every product we make is designed and assembled in the UK to the highest possible standard. This warranty covers confirmed manufacturing defects. This warranty does not cover wear and tear, or parts that are considered consumable. Any unauthorised modifications or failure to follow the Rega recommended guidelines in the product manual may invalidate the warranty. Due to local laws, warranties may vary by country in which units are sold. Please contact your Rega retailer or distributor for warranty details. Your statutory rights are not affected.