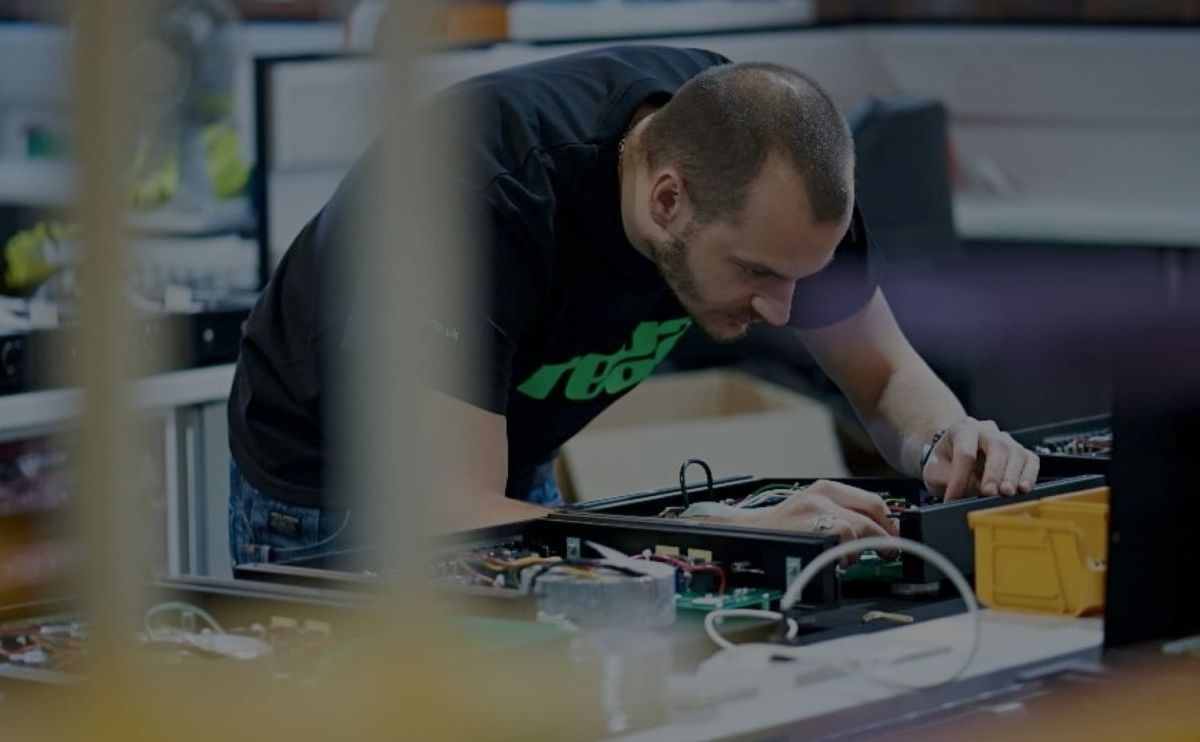 Factory Tour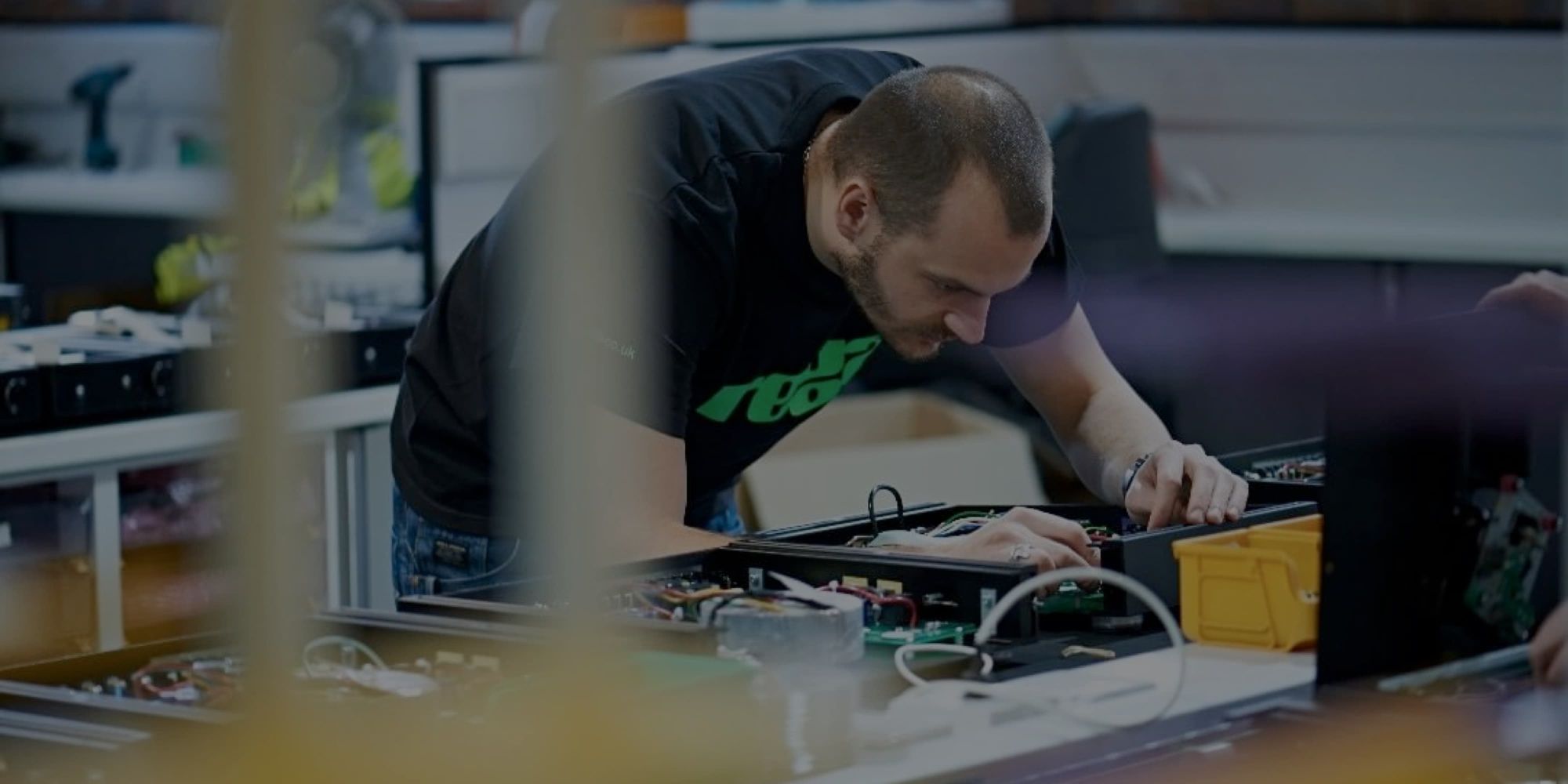 Factory Tour
From our purpose-built 38,000 square foot manufacturing and warehouse facility in the South East of England, Rega now sells worldwide to 46 different countries, has more than 140 employees and is currently hand assembling on average 8,500 products and accessories every single month.
Take a fly on the wall tour of the Rega headquarters via our factory tour video or see in detail how the products are meticulously hand-assembled in the latest video entitled 'Listen'.
Turntable Area 1

Planar 1, Planar 1 Plus and RB110 tonearm

Current demand requires a skilled team of 8 people to build a minimum of 125 units every single day. The same team also make the same quantity of RB110 tonearm. This high level of demand required a huge investment from Rega to build a new department to house production on this scale. The success of this product has continued since launch and the simple set up of this plug & play design is an easy step back into the world of vinyl for many users. The only thing entry-level about this handmade turntable is the price.

Turntable Area 2

Planar 2 and Planar 3

The world famous and multi award winning Planar 2 and Planar 3 models are built in their own dedicated department in order to meet stringent quality control and volumes. Rega designed assembly jigs are used throughout the production process to ensure each product is identical in build and performance to the one that went before.

Moving Magnet Cartridge

Bias 2, Elys2 and Exact

​Our award winning range of handmade moving magnet cartridges have been the perfect partners for our range of turntables for the past 30 years. Each coil set is wound in house to create a stereo generator then each cartridge is carefully assembled and tested over a two day period.

Moving Coil Cartridge

Ania, Ania Pro, Apheta 3 and Aphelion 2

Including curing times, it takes three days to build each of our moving coil cartridges. Meticulously hand assembled using state of the art digital microscopes, each iron micro cross has the coils hand wound on Rega designed winding jigs. Each process takes extreme levels of concentration and skill and only a handful of people ever achieve the required dexterity to successfully build such a complex assembly.

High-end Electronics

The Reference range

The Reference range is the highest level of performance achievable from Rega electronics. Unlike any other department, each product is built one at a time from start to finish by the same person. Every part is bespoke and all the casework is machined from solid aluminium billets. The Osiris amplifier weighs in at hefty 38 Kg when packed. Once built, the owners manual is serial numbered and signed by the technician who built and tested the unit prior to being carefully packed in an Egyptian cotton sleeve before boxing.

Tonearm Production

RB110, RB220, RB330 RB880 and RB3000

Rega has two purpose-built tonearm manufacturing departments. One area is dedicated to the production of the RB110 tonearm used on the multi-award-winning Planar 1 turntable The second production area assembles the RB220 RB330, RB880 & RB3000. Every tonearm we build is hand-assembled to the tightest tolerance using Rega designed tools and jigs. These measures ensure the highest quality and accuracy throughout each and every assembly.

Design Team

Creating the future

Our constantly evolving design team of highly skilled mechanical and electronic engineers are at the heart of every new product and are all driven by the same tireless passion to create amazing new products. Ideas are sketched and taken forward using the latest CAD software, 3D printing technology, laser cutting along with our team of in house engineers to create prototypes and manufacture production tooling.

Loudspeaker

Kyte, RX range and RS10

Rega designs and builds a unique range of British made loudspeakers all designed as the perfect 'voice' for the rest of the Rega range of products. Our loudspeaker range is an essential element if you want to truly experience the full Rega sound. Every drive unit, high frequency unit, voice coil and inductor are all meticulously hand made in house to ensure the best possible performance.

Electronics Production

Amplifiers, CD players, DACs and phono stages

Our electronic production area is our fastest-growing department, building our broadest range of products with a highly skilled team of ten people. The success of the latest io and Brio amplifier have continued to see this production department working at full capacity every single day producing a vast number of multi award winning products. Every amplifier is flash tested for safety, soak tested for one hour and the white noise tested for a further fifteen minutes. Finally, all buttons and remote functions are manually operated to test for functionality before a thorough clean before inspection and packing.

High-end Turntable

Planar 6, Planar 8 and Planar 10

The latest skeletal range of turntables is the culmination of many years of development work taking Rega's design philosophy further than ever before. A highly skilled team work to the highest level hand assembling and testing each unit in a custom-designed department. These products are some of our most labour intensive with each model being built over a two day period to allow for curing times and to ensure our strict quality control demands are met.

CNC Wiring

A key part of Rega's growth

With the continued growth and increased sales demand it became essential to bring many previously outsourced smaller jobs back in house. Another brand new department was constructed to house over £200,000 worth of automated production equipment. This essential machinery covers multiple jobs from coil winding, stripping, tinning, crimping and soldering. This decision gave us back the control we needed over both quality and quantity and directly improved our production and delivery times. This ever growing department is a key part of our recent growth and continued success.

Engineering department

THE BEATING HEART OF REGA

Our engineering department is the beating heart of Rega Research Ltd, manned by highly skilled and vastly talented engineers this department is key in creating all of our essential production assembly jigs and custom tooling. The design team rely heavily on them to produce final prototypes before a new product is launched while many of our complex lower volume components are meticulously hand made by the very same team. Simpy put, without this facility Rega would grind to an abrupt halt.
We design and assemble every product by hand in our custom built facility in the South East of England, using a team of highly trained and highly skilled technicians who take great pride in the work they do.