Planar 8/10/Naia Wall Bracket
A custom ultra-lightweight 2mm aluminium wall bracket designed specifically for the latest Planar 8 and Planar 10 turntables. The wall bracket will deliver the best performance from your turntable by providing complete isolation.
Available in black or white.
Adjustable for use on uneven walls.
Not suitable for RP8 or RP10.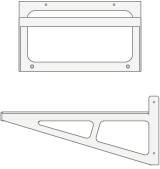 Technical Specifications
Dimensions (W × H × D)

305 × 175 × 340 mm

Weight

0.7 kg
Complementary Components
---
RB880 tonearm
Ania, Ania Pro or Apheta 3 (optional)
18 mm Triple layer float glass platter
Double brace technology
Tancast 8 foamcore plinth
Custom matched Neo PSU
Custom designed smoked dust cover
Reference EBLT drive belt
---
RB3000 tonearm
Apheta 3 or Aphelion 2 (optional)
18 mm Ceramic Oxide diamond cut platter
DB technology with ceramic top brace
Tancast 8 foamcore plinth
P10 Advanced PSU
Custom designed smoked dust cover
Reference EBLT drive belt
Experience Rega
Contact your nearest Rega dealer or global distributor
Lifetime Limited Warranty
All Rega products carry a Lifetime Limited Warranty.
Every product we make is designed and assembled in the UK to the highest possible standard. This warranty covers confirmed manufacturing defects. This warranty does not cover wear and tear, or parts that are considered consumable. Any unauthorised modifications or failure to follow the Rega recommended guidelines in the product manual may invalidate the warranty. Due to local laws, warranties may vary by country in which units are sold. Please contact your Rega retailer or distributor for warranty details. Your statutory rights are not affected.