Fono Mini A2D MK2
The Fono Mini A2D is a compact high quality moving magnet disc stage with a circuit based on our multi award winning Fono MM. Our best selling phono stage also includes a USB interface which allows you to transfer your beloved vinyl to digital audio files.
Analogue to Digital
The Fono Mini A2D is a high-quality phono pre-amplifier for use with any moving magnet cartridge. The addition of a USB interface allows you to easily transfer vinyl to your PC if required. The restyled Fono Mini A2D amplifier offers improved usability, exceptional performance and incredible value for money while promising to be a valuable addition to any hi-fi set up.
Key Features
Compatible with all moving magnet cartridges
USB output
A2D functionality
Compact custom case design
Adjustable gain level to optimise performance
Lifetime warranty against manufacture defects
To transfer vinyl to your PC, you will need to install a digital audio editor. Such software is widely available as a free download (such as Audacity), from the internet. This is a simple interface which allows monitoring of volume and balance whilst transferring your audio to your PC hard drive.
Audio editing software includes a level meter which indicates the output level achieved when playing a piece of vinyl. You should adjust the output as necessary via the 'Level' control located on the front panel. Always take special note of record levels to ensure optimum recording quality.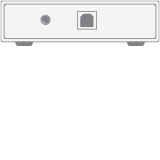 Technical Specifications
Input Sensitivity

5 mV for 500 mV Output

Input Loading

47 k +100 pF

Maximum input level

70 mV @ 1 kHz

Output Impedance

100 Ω

Signal to noise ratio

78 dBA ref 5 mV

Power requirements

24 V AC 85 mA

Input for full scale digital output

7.5 mV

Dimensions (W × H × D)

102 × 30 × 125 mm

Sample rate

16bit 44.1kHz (48kHz max) when transferring files via USB.
For full technical specifications, download Fono Mini A2D MK2 - User Manual Multilingual - Ver 8 below.
Downloads
Environmental Labelling of Packaging
Timing has always been one of the Fono Mini A2D's defining talents - it delivers tracks with zest and enthusiasm without skipping a beat, and this latest revisiting only confirms it is yet to be bettered by its rivals.
---
Experience Rega
Contact your nearest Rega dealer or global distributor
Lifetime Limited Warranty
All Rega products carry a Lifetime Limited Warranty.
Every product we make is designed and assembled in the UK to the highest possible standard. This warranty covers confirmed manufacturing defects. This warranty does not cover wear and tear, or parts that are considered consumable. Any unauthorised modifications or failure to follow the Rega recommended guidelines in the product manual may invalidate the warranty. Due to local laws, warranties may vary by country in which units are sold. Please contact your Rega retailer or distributor for warranty details. Your statutory rights are not affected.