Planar 3 50th Anniversary Edition
Celebrating our 50th anniversary with a special edition turntable
new
We are celebrating our 50th Anniversary with a very special edition of the legendary Rega Planar 3. A turntable package designed and developed to maximise the performance from this model. As part of the celebration, we have put this anniversary package together at an incredible price that won't be repeatable, contact your dealer for details.
Presented in the hugely popular new walnut effect finish, the 50th anniversary Planar 3 is supplied with a hand tuned Neo PSU MK2 and the handmade Rega Exact moving magnet cartridge factory fitted. The drive system uses our Reference EBLT drive belt and our 24V motor fitted with a custom CNC'd aluminium drive pulley to deliver the absolute best in performance and accuracy. The Anniversary Edition is badged with exclusive aluminium plinth and lid badges for the finishing touch.


Celebrating 50 Years of Rega Research Ltd.
From humble beginnings in 1973, making just a handful of turntables for friends, Rega has since grown into a multimillion-pound audio engineering company making world-class, award-winning hi-fi products that are supplied across the globe.
Since inception, our expertise in mechanical and electrical engineering was combined with three core values; to create products that perform beyond expectation, deliver unrivalled value for money, and offer lifelong reliability. These same values are upheld today and are key factors in our continued growth and success.
Key Features
Walnut Effect plinth with custom aluminium badge
RB330 Precision tonearm
Exact MM cartridge factory fitted
Neo turntable PSU MK2 included
24 V low noise, low vibration motor, hand tuned to the custom Neo PSU Mk2.
Double brace technology
12 mm float glass opti-white polished platter
CNC machined Planar 6 drive pulley for use with the Neo PSU.
Supplied with a smoked dust cover as standard.
Reference EBLT drive belt fitted as standard
Anniversary Special Edition only available to buy during 2023
Lifetime warranty against manufacture defects
Walnut Effect Finish
Tonearm
The RB330 tonearm was designed using the latest 3D CAD & CAM technology and is the culmination of more than 35 years of tonearm design experience. Featuring a brand-new bearing housing, and our latest tonearm tube designed using intelligent redistribution of mass ensure this arm will exhibit fewer points of possible resonance. Extreme stability with almost friction free movement from the new high precision bearing assemblies guarantees to gather more information from your vinyl than ever before.
Plinth
Walnut effect, laminated plinth. Rega has pioneered the use of lightweight rigid plinths. Clever use of lightweight particulate core with a highly rigid phenolic resin skin became the foundations of the high level of performance achieved by the now iconic Planar range.
Motor
24 V low noise low voltage precision motor and PCB assembly, fitted with a custom CNC machined aluminium pulley.
Central bearing
Rega designed patented brass main hub central bearing, improved fit and construction reducing stress on the bearing itself.
Double brace technology
3 mm phenolic bottom brace and metalized skin phenolic top brace. The 50th anniversary Planar 3 uses a lightweight laminated plinth strengthened using our double brace system. Mounted specifically where the increased rigidity is required (between the tonearm mounting and the main hub bearing) this forms a structurally sound "stressed beam" assembly. This rigid plinth design prevents energy absorption and unwanted resonance, which will add unnatural distortions to the music. Equally, heavier mass can transfer more unwanted energy, such as motor or bearing noise directly into the rotating record. The use of braces instead of the complete skin allows double thickness phenolic resin in these key areas while providing further weight reduction to the plinth which directly addresses the issue of mass absorption and unwanted energy transmission.
Neo MK2 PSU
The Neo MK2 PSU is an advanced turntable power supply providing user controllable fine speed adjustment, an advanced anti-vibration motor circuit and the convenience of electronic speed change. The Neo MK2 reduces motor noise, improves speed stability and rotational speed accuracy.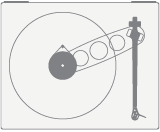 Technical Specifications
Tonearm

Hand assembled RB330 precision tonearm

Motor

24 V low noise motor

Platter

12 mm glass polished edge

Connectivity

RCA - Phono

Power

Via Mini DIN from Neo PSU

Dimensions (lid closed)

447 x 117 x 360 mm

Turntable Weight

6.0Kg

Neo Mk2 PSU

24 V AC protected by resettable fuse

Power Consumption

7.2 W

Voltage

24 V AC

Wall Power supply

Rega PS1 only

Speed control step size

0.01 RPM

Neo PSU Dimensions

180 x 150 x 50 mm
For full technical specifications, download Planar 3 - 50th Anniversary Edition - User Manual Multilingual - Ver 1 below.
Downloads
Environmental Labelling of Packaging
Experience Rega
Contact your nearest Rega dealer or global distributor
Lifetime Limited Warranty
All Rega products carry a Lifetime Limited Warranty.
Every product we make is designed and assembled in the UK to the highest possible standard. This warranty covers confirmed manufacturing defects. This warranty does not cover wear and tear, or parts that are considered consumable. Any unauthorised modifications or failure to follow the Rega recommended guidelines in the product manual may invalidate the warranty. Due to local laws, warranties may vary by country in which units are sold. Please contact your Rega retailer or distributor for warranty details. Your statutory rights are not affected.